Filmed: December 7-9, 2004 |  Aired: Sunday, May 15, 2005
Ep.14 Final Four Immunity challenge: "Tower of Domination" - Unsurprisingly, Tom and Ian are the two reach the final round. Surprisingly, it's pure luck, but Tom wins.
Ep.14 Final Four voted out: Jenn, 2-2 (1-1) over Ian, after Ian beats her at firemaking.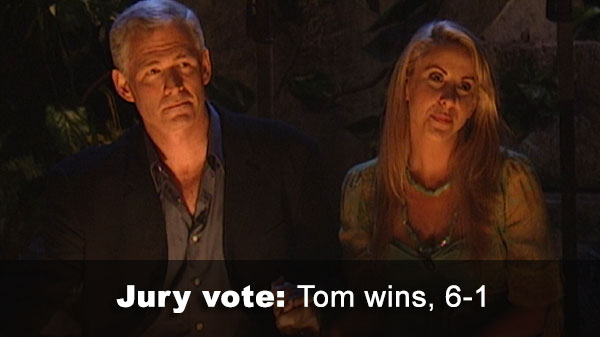 Ep.14 Final Three Immunity challenge/vote: "Bob-Bob-Buoy" - After 11 hours, 55 minutes, Ian agrees to let Tom win if he agrees to take Katie to F2. So Tom wins, Ian is out. No Tribal Council, just a voice vote, with Tom saying he votes for Ian. Done and done.
Ep.14 Final jury vote: Tom wins, 6-1 over Katie.
Episode 14 scoring notes
Not much to comment on here, apart from the weird scoring of a Final Three vote-out (everyone gets a TCA, 3 TotV, Tom and Katie each get VFB credit, but Ian only receives 1 VAP). It's done that way to not penalize the person brought along to the Final 2 for not voting, while also not saddling the F3 boot with a vote they didn't actually see.
F4 Vote count:
Jenn received 2 votes, from Ian and Katie (voted out, 2-2 [1-1 on revote; out via firemaking]).
Ian received 2 votes, from Jenn and Tom.
F3 Vote count:
Ian received 1 vote, from Tom (voted out, 1-0 or 2-1).
Final jury vote count:
Tom received 6 votes, from Janu, Stephenie, Gregg, Caryn, Jenn, and Ian (Winner, 6-1).
Katie received 1 vote, from Coby.