Episode 11: Social capital, power rankings, and some relief
Published: December 3, 2019
With talk of social capital rising in the Survivor commentariat, Pat offers a more complete explanation of the concept in its original academic form, and talks about how the different kinds of social capital - bonded and bridged - contribute to Survivor success.
Episode 6: Little late Power Rankings
Published: November 1, 2019
Pat returns after a brief hiatus to survey the Sole Survivor landscape, after the surprise power shift on Vokai in Episode 6. Who does Pat see as having the best chance to win, at this point in the game?
Episode 3: Vince and trophy culture
Published: October 14, 2019
Pat presents the concept of trophy culture, and argues that Vince's brief, somewhat erratic approach to the social game makes sense as a result of trophy culture in the raising of millennials.
Episode 1: Elaine and the art of paradigm repair
Published: September 30, 2019
Pat dives into the Island of the Idols premiere, specifically how the sociology concept of paradigm repair corresponds to Elaine's successful argument that it's dumb to vote someone out on Day 3 simply because they're likable.
Pre-season: Giant heads - The TDT Island of the Idols contestant draft
Published: September 23, 2019
The True Dork Times writers (Ben Martell, Dan Otsuki, Pat Ferrucci, Ryan Kaiser, and Jeff Pitman) congregate and try to pick the winner of Survivor: Island of the Idols based on almost zero evidence. But that's no reason to avoid making what are probably ludicrously inaccurate hot takes.
Pre-season: Here we go again... let's do some predicting
Published: September 18, 2019
As the premiere of Island of the Idols approaches, Pat has once again perused the cast bios, and ranked the new contestants' chances of winning based on this (and solely this) information. Who will climb to the top of Pat's highly scientific hierarchy?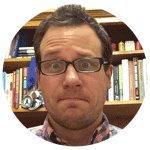 Pat Ferrucci started watching Survivor when episode two of Borneo first aired. He's seen every episode since. Besides recapping here, he'll be live-tweeting this season from the Mountain Time Zone. Why? Because nobody cares about the Mountain Time Zone except when they want to ski. Follow him @patferrucci for Survivor stuff and tweets about anything and everything that enters his feeble mind.