Pre-Episode 14: Jury Jeopardy - David vs. Goliath
Published: December 17, 2018
With six players remaining, three True Dork Times writers (Pat Ferrucci, Ryan Kaiser, and Jeff Pitman) unite to forecast the outcome of the Survivor: David vs. Goliath jury's vote on the final three. Who will win the million? And more importantly, will we out-predict Survivor scribes from other sites?
Episode 13: Theorizing about where everyone stands
Published: December 14, 2018
As the season finale looms, and the winner's landscape now lacks Christian's Goliath presence, Pat tries to discern which of the six David vs. Goliath contestants remaining are the frontrunners to win, might have a chance, or have no chance in hell.
Episode 12: Gabby attempts to restore her image
Published: December 6, 2018
Pat finds similarities between Gabby's big (attempted) move and the concept of image restoration theory, and finds it applies generally to the recent emphasis on making Big Moves, not just in Survivor: David vs. Goliath.
Episodes 10-11: It's all about the trust
Published: December 1, 2018
Pat looks at the academic concept of interpersonal trust, and how it applies in Survivor, particularly as both a currency and a weapon, as seen in Episodes 10 and 11 of Survivor: David vs. Goliath.
Episode 8: They're primed and ready to be Davids and Goliaths
Published: November 20, 2018
Pat looks at the degree to which social identity theory and priming theory explain the contestants' reversion to original tribal lines in the dramatic Tribal Council double-idol play in Episode 8 of Survivor: David vs. Goliath.
Episode 7: Angelina and the defintion of (the opposite of) success
Published: November 10, 2018
As Angelina's merge power play backfires, Pat looks to Robert K. Merton's theory of cumulative advantage (a.k.a. the Matthew Effect) to explain her overreach, and the conflict between short-term and long-term success in Survivor.
Episode 6: The annual Merge-time Power Rankings!
Published: November 1, 2018
With the merge upon us, Pat takes a break from the theory, and (re-)ranks the remaining 13 contestants in ascending order of chances to win, while roughly sorting into groups of impossible, unlikely, possible, and likely winners.
Episode 3: Evolution is real; Survivor is proof
Published: October 17, 2018
Pat applies Darwin's theory of evolution to Survivor strategy, and questions the inverse correlation between pre-merge swaps and survival of the goats. Plus a look at who else benefits from the upcoming swap.
Episode 2: Don't upset the system
Published: October 4, 2018
Pat explains how Talcott Parsons's social systems theory relates to the key strategic decision in Episode 2 of Survivor: David vs. Goliath - Lyrsa and Elizabeth's targeting of Jessica instead of Carl.
Pre-season: The TDT DvG contestant draft
Published: September 22, 2018
The True Dork Times writers (Ben Martell, Pat Ferrucci, Ryan Kaiser, and Jeff Pitman) come together to draft fantasy teams of David vs. Goliath contestants, in an attempt to win eternal* glory by having the team containing the winner. (*Offer expires roughly one month after the season ends.)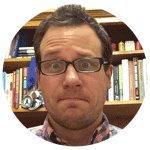 Pat Ferrucci started watching Survivor when episode two of Borneo first aired. He's seen every episode since. Besides recapping here, he'll be live-tweeting this season from the Mountain Time Zone. Why? Because nobody cares about the Mountain Time Zone except when they want to ski. Follow him @patferrucci for Survivor stuff and tweets about anything and everything that enters his feeble mind.