Episode 5: "For Cod's Sake"
Survivor: Panama  boxscores Episode 5
Filmed: November 11-13, 2005 |  Aired: March 2, 2006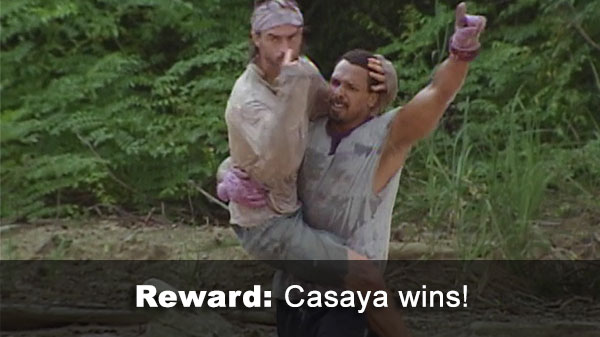 Ep.5 Reward challenge: "For Cod's Sake" - Bob Dawg chops fish, Casaya win wine and 100 lbs of fish, which they can't cook due to a rainstorm. At least there's always Casa de Charmin.
Ep.5 exile: Terry again, in the first of a series of utterly pointless trips.
Ep.5 Immunity challenge: "Buried at Sea" - La Mina almost blows a massive lead on the puzzle, just avoids it.
Ep.5 voted out: Bob Dawg, 3-2-1-1 over Bruce, Aras, and Courtney, respectively.
Episode 5 scoring notes
Apart from four sit-outs, everything is pretty standard scoring-wise here, despite the absurdly split vote.
Vote count:
Bob Dawg received 3 votes, from Cirie, Courtney, and Danielle (voted out, 3-2-1-1).
Bruce received 2 votes, from Aras and Bob Dawg.
Aras received 1 vote, from Shane.
Courtney received 1 vote, from Bruce.