Surprisingly, and shoving aside years of precedent to the contrary (with Gary Hogeboom the sole exception), Jeff Kent, former professional athlete, has turned out to be a decent Survivor player. He's playing the game hard, playing through an injury, no less, and is making bold moves in an attempt to better his position in the game. Unfortunately, the move he made in this episode was exactly the wrong one, and he's now completely screwed.
In jumping on to the tail end of the Tandang alliance (against the explicit tribal council warnings of Lisa, who, as a celebrity, is clearly the voice of reason), Kent and Carter took themselves from a possible position of power to one of incredible weakness. Tandang already has a powerful core trio in Pete, Abi-Maria, and Artis. And if you add in peripheral members like Malcolm and Lisa, that puts Carter and Kent at sixth and seventh spots, at best. And since Malcolm is likely to pull in Denise ahead of them, seventh and eighth.
In contrast, Kent and Carter had a core four-person alliance with Penner and Denise in the Kalabaw tribe. There were obvious, gaping, chasms within the Tandang tribe. The people on the outs in that tribe, Skupin and RC, offered their support, AND Skupin promised to vote against Penner when the time came. Kent is the nominal leader, or at least co-leader with Penner, of this alliance. At worst, they pull in Malcolm or Lisa before voting out Penner. Why on Earth would he pass up this opportunity, and in the process permanently burn his bridges with Penner?
As far as we can figure, the only thing that makes sense is that Jeff Kent had a temporary panic attack. Within his core Kalabaw four, two of his cohorts (Carter and Denise) had immunity necklaces, and the other (Penner) had a hidden idol. Kent was the only one unprotected. Secondly, he'd just delivered a Beasty-worthy performance in the immunity challenge, essentially dropping out voluntarily, to finish second to Carter. Kent could well have been worried that this would trigger an alarm in a united Tandang, and generate a Coors Field-size target upon himself as a physical challenge threat.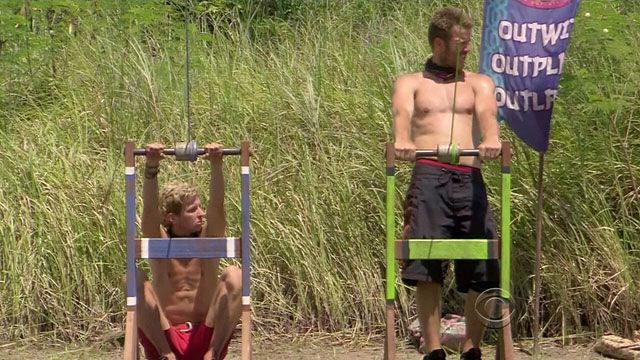 Even with all this pressure, it really makes no sense to vote the way Carter and Kent did. Even if they don't entirely trust Penner, nor relatively recent newcomer Denise, how is it an improvement to abandon Penner, and attach your hopes instead to an even larger group of people you've known for all of three days? That's like swinging at a curveball in the dirt on a 3-0 count. Temporarily, you're still okay, not much worse off than before, but you're now just a foul ball and another curveball (which the pitcher now knows you'll swing at) away from striking out, whereas if you'd just laid off of it, you'd be standing on first.